Welcome to the redesign, Space Bear's new home.
If you haven't already, *try it out now**.
We will be officially switching over on March 5th.
Interseller's entire web application has been revamped to look and feel much more intuitive. Every decision was made with the user in mind. Although, words can't do justice to the experience we hope to give you a peak.
What's New?
Dashboard
There's an all new dashboard waiting for you when you log into the redesign. With brighter colors and new data visuals you'll get a pulse of your sequences at a glance.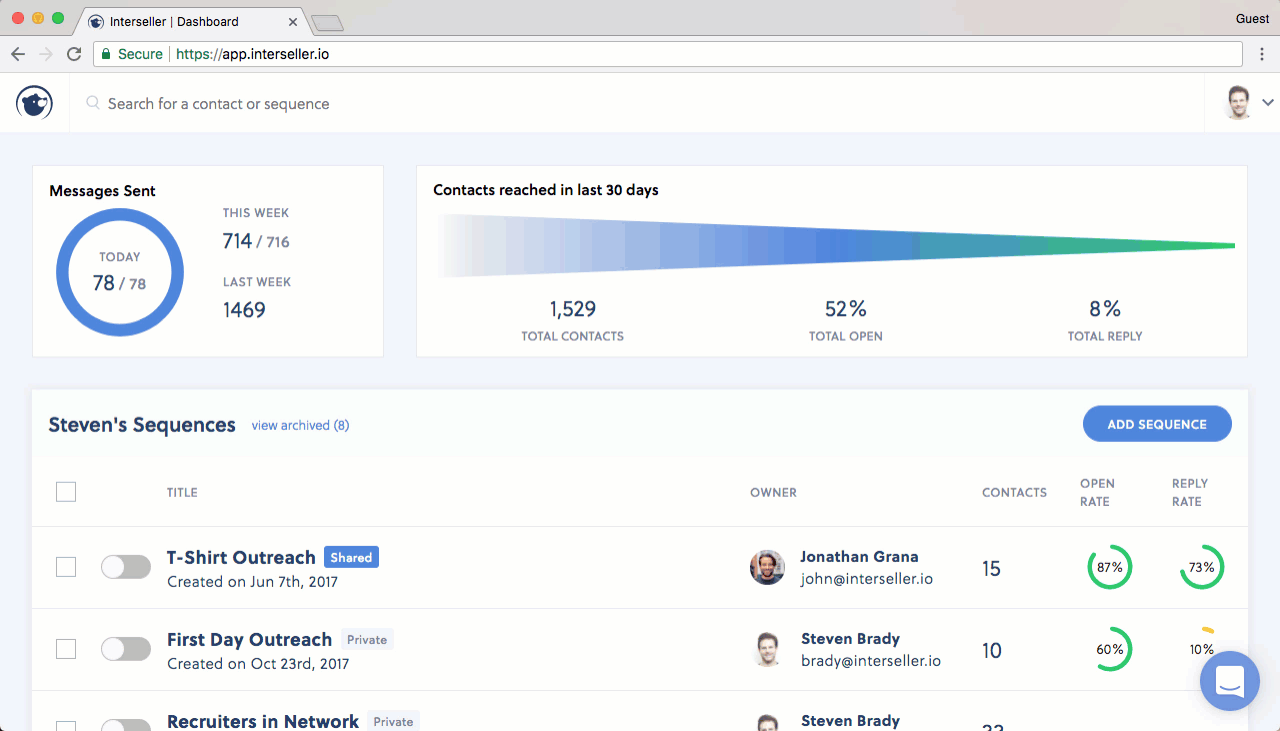 Team Sharing
The best things are accomplished in teams. Our new team sharing feature will give your team the ability to add contacts and modify steps. You will also find that shared sequences are tagged on your dashboard.
Team Safety
In the settings page, under team safety, you'll find the deduplication and blacklist settings. Deduplication settings prevent you from emailing the same individual multiple times in different sequences. The blacklist setting assures your emails aren't being sent to the specified domains. Don't forget, anything added in this section will apply to the entire team.
More Company Data
More is better, especially when it comes to data. We've enriched our data so you know more about who you're reaching out to You'll now find company logos, locations, social links, and a description of your prospect's company. More fields are being added each week so keep a look-out.
Better Editor
Better email copy starts with a better text editor. With our new editor you can add emojis and images painlessly. To make your outreach more personal use the @ symbol to open a dropdown with some personalization options.
Customize Schedule on Sequences
You can now use a custom schedule in each sequence instead of your default schedule. It's also now easier than ever to add time blocks to multiple days. Try it out for yourself and increase your open rates for specific sequences.
API
TheInterseller API allows you to programmatically access sequences associated to your Interseller account with ease.
The intended use of the API is to automatically add contacts from your application so you don't have to worry about messaging them and to have a custom built tool for sourcing/easily adding contacts into a messaging sequence.
Things Moved!?
Trust us, we're not playing tricks, we just like making things easy for you!
Lookup email tool is now part of Add Contact in sequence.
While adding a contact instead of knowing the email you can lookup and save it to your sequence in one go!
Bulk lookup emails is now part of Import CSV in sequence.
You can now import a csv with just names and websites of your prospects and we'll autofill the emails.
One more thing…
Reports and more prospecting tools are coming soon, so stay tuned.